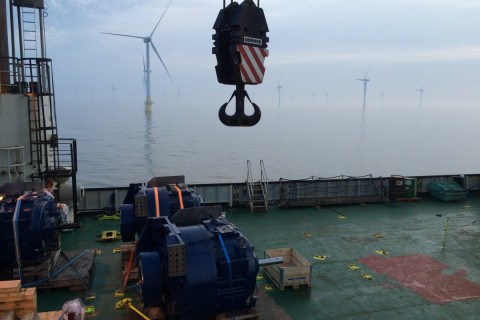 In what could signify a crossroads for the offshore wind industry, E.ON has internalised the O&M of offshore wind turbines at Scroby Sands. I spoke recently with Scroby Sands' Operations Manager Keith Cooke about it, who told me the warranty period for these turbines was coming to an end, and instead of renewing the warranty, they decided to take on the maintenance themselves.
Of course, there are implications of taking on maintenance in this way. There's a lot to learn and we, as O&M partners to the offshore wind industry, can provide a lot of value and have an important role to play.
You can read about the first gearbox exchange to be handled internally by E.On at Scroby Sands.
For example, in a major component replacement job, careful planning and close cooperation is required in order to achieve minimal disruption to the wind farm's operations.
Keith Cooke said, "We wanted to make sure things were done correctly and that we had the opportunity to learn during the process. We need to know more about main component replacement as it is part of our self-maintenance strategy."
One key issue to consider is where to place the lifting responsibility. Usually the turbine manufacturer provides the Competent Person and Lifting Supervisors to plan and execute lifts. At Scroby Sands, E.ON sensibly decided that the experienced jack-up provider was most capable of handling this responsibility.
Sharing offshore wind O&M resources to reduce costs
This focus on internalising O&M also highlights the need to explore how resources can be shared. There are significant cost savings and efficiencies to be gained.
Keith believes that establishing partnerships and framework agreements would be beneficial due to the general need for the industry to increase efficiencies and drive down costs of electricity generation.
"Vessel availability is a limiting factor for operations and maintenance, and another is time – both the time it takes to get a contract in place and the time to mobilisation. I think we would all benefit if different parties could work closer together by having agreements in place to ensure assistance is available when needed. Sharing resources would be useful, too. For example, if a vessel is going to be nearby on another project, we could use that vessel for regular maintenance tasks while it is in the vicinity," he said.
He emphasised especially that the ability of logistics services to be more efficient and competitive is a key component in creating better cost efficiencies in the offshore wind industry.
Only time will tell if the winning strategy will be to internalise maintenance or go for long-term O&M contracts with the turbine manufacturers, as seen with Siemens' 15-year maintenance agreement on the Dutch Gemini project. My view is that we will see a mix of both and that resources and competencies of the wind farm owners will determine the choice of strategy.