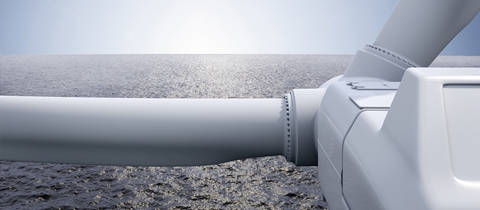 Reducing costs of operation is critical to the long-term future of offshore wind energy. We need to see more cooperation between utilities, turbine manufacturers and vessel operators in optimising contracts, resources and standards across the industry if we are to see the efficiencies the industry demands.
A recent report on the offshore wind industry commissioned by OffshoreWindOM.com highlights the significant cost savings available. Digging deeper into the research behind the report, there are several important factors that will help drive the industry to the next level.
An effective O&M setup
Asset owners, turbine manufacturers and vessel owners all have great influence on how operating and maintaining offshore wind turbines can be optimised. The most common practice we have seen so far is that the turbine manufacturer is responsible for O&M during a three-to-five-year warranty period. After the warranty period expires, offshore wind farm owners normally assume responsibility for O&M.
But as there is a desire to move the industry from being driven by availability to productivity, it may not stay this way. Turbine manufacturers would aim for longer O&M contracts – even talking about lifetime service agreements. The offshore wind industry will most likely also see a growing number of independent third-party O&M suppliers and operators. We've already seen this in onshore wind, where suppliers and operators have become more involved during the second half of the wind turbine's lifetime.
The vessel owner is very influential, too, as this is where ownership of the vessel technology lies. MAKE Consulting's research suggests that vessels determine more than 80 percent of the operational limitations. Specially designed vessels are needed for the offshore wind industry, and it is essential that developments in vessel technology are aligned with the future needs of the industry.
This is why it is important that turbine manufacturers share information about their future requirements. The equipment needs to be designed according to component weight, lifting heights, and out-reach distances, just to name a few. This will allow vessel suppliers to develop, design and build vessels that are optimised for O&M at a cost-effective level for the coming generations.
The wind turbine manufacturer is responsible for the critical technology. MAKE Consulting's research shows that wind turbine technology determines more than 80 percent of the operating expense risk. That means that turbine manufacturers need to play a central part in any strategic cost and risk initiatives.
Investments
If we can reduce risk through wise investments, then we also reduce cost premiums. Despite the larger upfront investment, bigger turbines will reduce operating costs for each megawatt hour of energy produced. The main reason for this is that it will require fewer turbines to produce the power.
Investing in the right equipment will make power production more efficient and reduce the dependency on weather. It is estimated that 55% of O&M time is spent waiting for the right weather conditions, which makes it a highly significant factor.
Asset owners and turbine manufacturers need to take the lead here, too. If they can provide long-term commitment through long-term contracts, it will provide the necessary assurance for vessel owners to invest sufficiently in vessels. This increased certainty will allow vessel owners to operate at lower rates. We see the equivalent in the Oil & Gas industry, where contracts of 10-20 years are commonplace.
Resource utilisation
All of us in the industry need to look for smarter ways of using O&M resources, and not only because this will increase the return on investments. Time at sea, not to mention weather days, is a major cost factor. It's not hard to figure out that reducing the days required at sea for O&M work has a direct impact on power production efficiency.
Ultimately, we want to increase the capacity factor, and this can be achieved by improving average energy production through better-planned O&M.
The research suggests that vessel owners, asset owners and turbine manufacturers have a particularly influential role to play in moving the industry in the right direction. What is important is that parties must coordinate their efforts and focus on methodology and technology if we are to achieve the cost reductions and power production improvements that the world demands.
Download the report
The report by MAKE Consulting is available for free: "How will today's offshore wind investments and strategic decisions impact tomorrow's O&M costs?"